I'm not exactly the world's biggest golf fan, neither am I any good at it. On a good day I can just about scoop the ball up off the floor, which in turn usually ends up either spiralling off into the long grass or burying itself twenty leagues into one of many purposefully placed sandpits. Maybe golf and me are just not meant to be… you see, I can lift heavy things, I just don't seem to have the finesse to cunningly guide a golf ball through the air and into a somewhat microscopic hole from 400-metres.
So when I discovered The Range, a new state-of-the-art golf simulator in the heart of Manchester's Spinningfields', I was of course… and unsurprisingly, not really all too bothered. However if you would like to attempt out-parring me; a race to see who can collect the most bogies, and/or birdies (like i'd ever end up under-par anyway) whilst simulating a rare, sunny Scottish day out at St. Andrews' or even scathing the rugged cliff faces at Cypress Point, then I assure you, i'll give it my best shot – I enjoy some good, healthy competition; providing you're not Nick Faldo in disguise of course.
Anyway enough golf talk; i'm a food blogger, and conveniently there is somewhere suitably fitting just next door.
Albatross and Arnold is, as stated, next door to The Range; it's all part and parcel of the same venue really… a less artificial grass, more luxurious parquet floored space primed for cocktail sipping and less-formal, but still rather swanky dining…
Turning right at the top of the backlit 'R' stamped stairs, you're met immediately with a subtle slice of retro, yet modernly classy bar and eating area, filled with various marble topped tables, plush velvet covered chairs and sofas, eloquently framed bar stools and a feature 'The Voice-esque' three dimensional wave suspended from the ceiling floor lit with a gradient of blue to red mood lighting. The rest of the room is ambiently lit from above with perfectly placed down lighting and ceramic 'iced-gem' lamps framing the impressive bar area and brass structured backing which hosts countless spirits and is crowned by a rather ominous bottle of Remy Martin.
The best seats in the house are literally opposite the bar; an oblong, ornately wooden cladded table centred by numerous art-deco stools – A prime spot to observe the cocktail making, and an optimal perch to watch life unfold outside on the ground within Leftbank's raised garden space.
The menu has been designed for sharing; the 'small plate' offering is primed for a less-indulging, more 'yes i'm a little peckish, but not quite ready to commit to something bigger just yet' dining. There is enough variety to tantalise and excite even the most stubborn of palettes, with a fine selection of tenderly curated red meat, soft, melt-in-the-mouth fish, and probably the best roast potatoes i've ever eaten! There is also something suited to the vegetarians – the Heritage Tomato & Feta Salad in particular is 'on par' (I had to drop it in somewhere!), in fact a lot better than most of the salads i've sampled in the past – i'm not a salad-kinda-guy, but this was truly epic!
Now you're probably thinking… small plates + Louis Cannell = well, continued hungry, and I admit it; I'm probably not the best person to invite for a 'lite-bite' – my appetite is continually rampant, and just like I am with my cocktails – I can never consume just the one! And so it was to my absolute dining pleasure to experience pretty much the full selection of dishes Albatross and Arnold had to offer.
Come and take a look below at just a few of my favourites…
The 'Whiskey Glazed Pork Belly' with Micro Cress and Garlic Chive [£9.00] – As with all the dishes, these arrived positioned pin-point perfect. Presentation is at least 33% of the overall eating experience for me, which is a rather ridiculous thing to claim given the fact the food is yet to be tasted, but it's true. A dish that looks good will automatically position itself positively in my eyes, providing of course the taste matches the aesthetic. Albatross and Arnold most certainly did not let themselves down – The trio of gingerly leaning towers of succulent pork were golden and lightly crisp on top, glazed with a subtle lashing of whiskey – for those a little dubious; no alcohol could be tasted, and for those of you now sadly a little disappointed… well, there is a fantastic selection of whiskey behind the bar!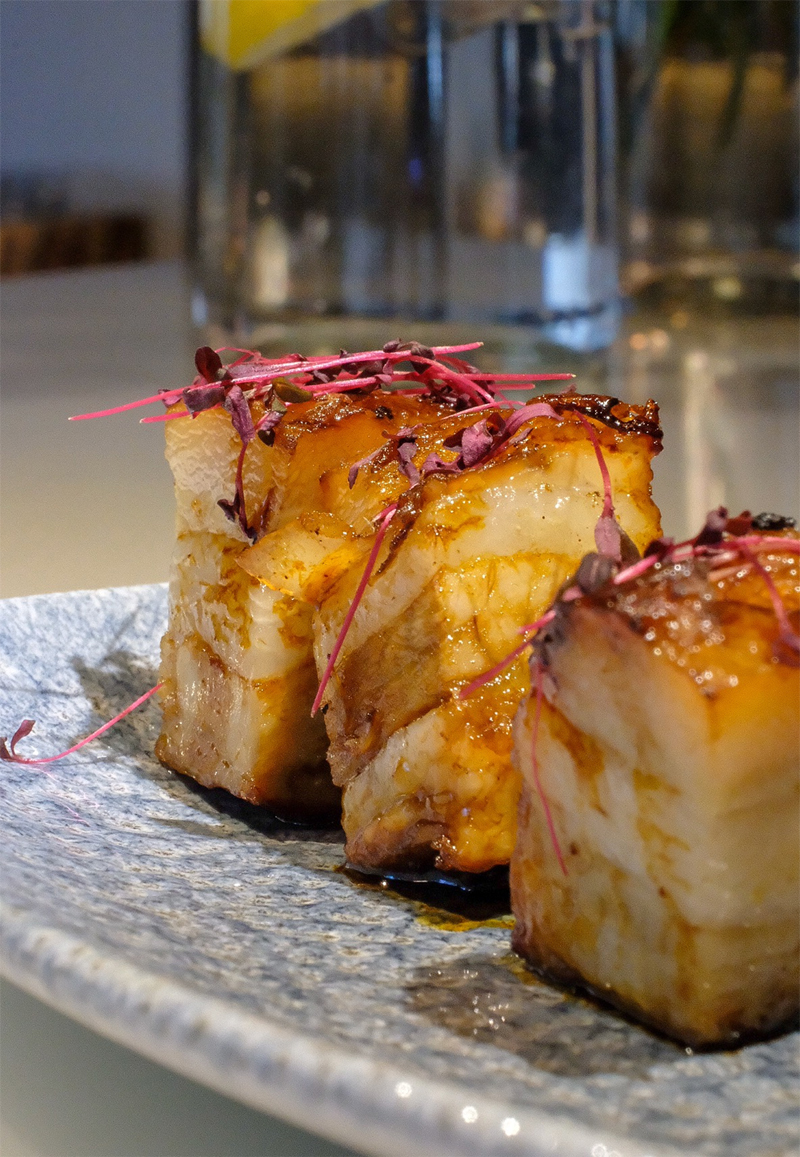 Next up, the 'Lancashire Cheese Bon Bons' with Walnuts, Beetroot Puree, Watercress and Balsamic Pearls [£9.00] – I'm a big cheese fiend; from cheddar to stilton, I love it all! This literal 'cheesy' take on the retro confectionery classic was delicious; lightly crisp outers concealing Lancashire's famed, melted cheese inside, all seated on top of a vibrant puree and finished with a sprinkle of decorative watercress. If I wasn't already hooked on the gin and slim, then a pairing of the bon bons with a Pinot Grigio would be a perfect match.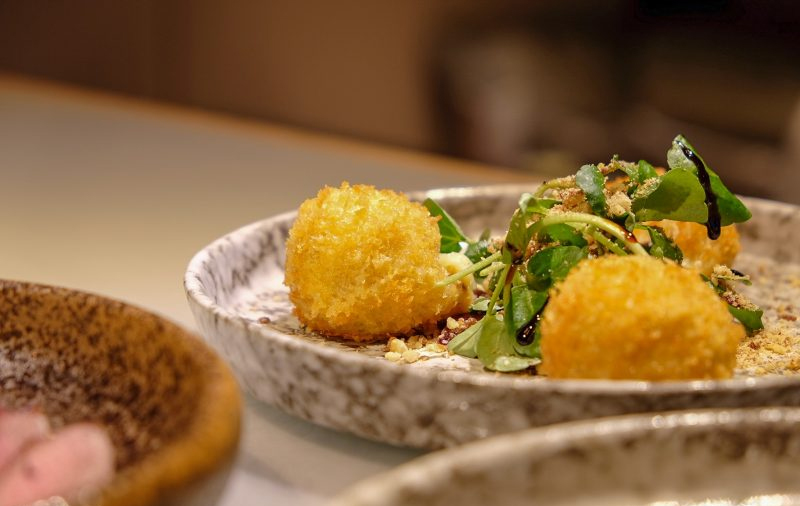 My final choice, and a deservedly special mention goes to the complimenting side dishes; the Triple Cooked Roast Potatoes in particular are worth their weight in gold, at least to me anyway. You may wonder why i've selected potatoes ahead of something a little more 'exotic' like the Pan Fried Scallops, Lamb Cutlets and Quail Scotch Eggs; it was a close call, but these are without a doubt the best roast potatoes i've ever tasted. How on earth they manage to triple cook potatoes whilst maintaining a soft, fluffy centre is beyond me – not something i'll be experimenting with at home, but I will be back again soon to taste some more.
Location: Albatross and Arnold is situated upstairs next the The Range. The entrance isn't so obvious, but walking down towards the large Spinningfield's 'Leftbank' grass fronted signage from the Deansgate side, you will need to keep left of the artificial garden area; the entrance is about half way down. Head upstairs and to your right, and you're there. Address: The Range, Leftbank, Manchester. M3 3AN.
BOOK NOW